News
LOVELLS SPRINGS GVM UPGRADE KIT SUITABLE FOR USE WITH THE TOYOTA LANDCRUISER 79 SERIES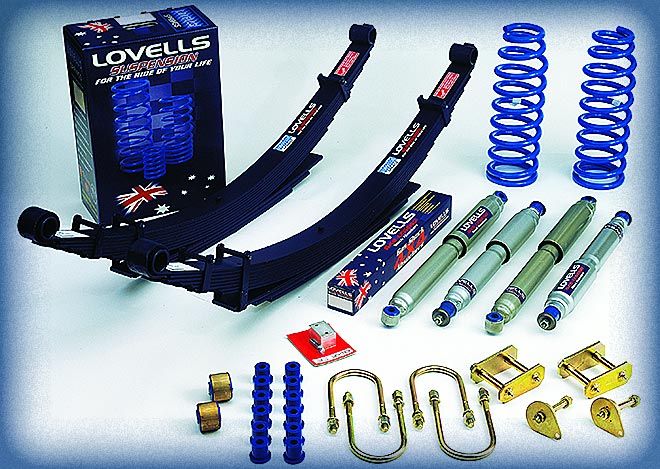 This is the perfect solution for Toyota LandCruiser 79 Series HZJ79 or VDJ79 Cab Chassis vehicles which need to carry loads to a Gross Vehicle Mass (GVM) of 3900kg – up from the standard GVM of 3300 kg. This upgrade kit meets all practical and official compliance requirements of Workplace Health and Safety standards, Fleet Managers, police licensing and insurance policies.
Why do Light Vehicles require G.V.M (Gross Vehicle Mass) Upgrades?
Requirements to load vehicle and operate safely with weight beyond current Original Equipment limits for heavy and/or remote work.
Need to protect from potential claims for breaches of OH&S rules and employee negligence.
Possibility of Insurance companies to void payout if the vehicle is loaded beyond approved GVM.
Possibility of litigation under common law if is vehicle operated beyond its legal Load Limits.
Solution
The Lovells Springs GVM Upgrade Kit, (approved by the Department of Regional Development, Transport, Infrastructure and Local Government, compliance plate approval no. 25742) helps avoid these problems.
What amount of Increase should you expect?
Officially certified GVM Kit provides:
GVM rating of 3900kg
GVM increase from standard of 600 kg
Load carrying ability of around 1600 kg (subject to correct load bearing accessories)
COMPONENTS
Kit includes the following:
2 x Lovells Heavy Duty Front Coil Springs
2 x Lovells Heavy Duty Rear Leaf Springs
4 x Lovells Gas Legend 36mm Twin tube Shock Absorbers
3 x Lovells Urethane bush kits for leaf spring.
4 x Lovells High Tensile U-Bolts
2 x Lovells Greasable Shackles
2 x Lovells Greasable Pins
1 x Lovells Adjustable Front Castor Bush Kit
1 x Brake Load Proportioning Link Spacer
1 x Rear Hand Brake Cable Extension Brackets
1 x Compliance plate with GVM of 3900 kg
1 x Brake Load Proportioning Valve Adjustment Warning Decal
1 x Tyre Placard (Decal) with revised axle capacities
1 x Fitting Instruction Manual
---